<![if !IE]> <![endif]>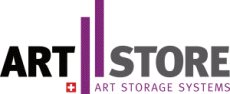 Weberrütistrasse 9
8833 Samstagern
Switzerland
Company portrait
Art treasures within reach and safe & secure
With "ArtStore", Kern Studer has specialised in the manufacture and installation of picture pull-out systems for painting storage facilities for more than 20 years. The many years of experience and further development of Kern Studer in the production of mesh partition walls, gates and roofs for industrial plants and private homes is elegantly implemented in ArtStore in order to provide works of art with a suitable home.
Flexible systems for different requirements
The wide range of painting pull-out systems from ArtStore includes systems of different sizes, each of which can be expanded or relocated. This ensures that individual customer requests are specifically addressed. Lightweight, but tough rack systems made of aluminium and steel are the most common systems for large and small-scale paintings. In particular, linear-guided systems, which have a low breakaway force and low rolling resistance, are used in very large storage facilities with ceiling heights of over four meters. In addition to the size of the room, there are also other challenges such as room division (angles, intermediate floors, space under stairs) or fixed installations.
The painting pull-out systems are available as ceiling-running or floor-running systems. The high quality of the products guarantees that they can withstand practically any weight requirement. Both the ceiling-running systems with aluminium and steel rails or linear shafts as well as the floor rails ensure that the individual walls can be pushed with little vibration. ArtStore additionally offers static fixed racks to make optimal use of empty walls in the room or external walls.
Customised solutions
Museum planners, shelf builders and repository and museum fitters are among ArtStore's most important partners. The specialist team forms a precise picture of your needs at each depot and then puts together an optimal solution.
Galerie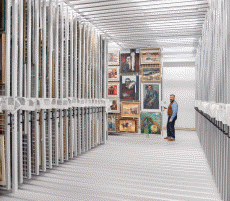 Products
Product groups
Brand
Press realeses